If you decided to buy a 3D printer, you may be one of those hobbyists who find it exciting to invest money in printing and creating their own models in the comfort of their homes.
Nowadays, there is a vast market for 3D printed items. Therefore, turning the costs emerging from buying, using, and maintaining a printer into a profitable investment sounds like a good idea.
In this article you will find examples of 3D items that you may use to start your own business (from decorative items to toys and even guitars), and also some aspects to consider such as the issue of legal licenses.
Legal considerations to selling 3d prints
Though it is true that there is a vast market for the sale of 3D printed items, it is important to know that in most cases it is illegal to sell pieces created from digital files that you have accessed online, whether they are free or not, unless you have the express approval of their creators.
In the first place, before getting into the details of such a topic, it is important to explain that this article does not offer legal advice and it should be taken into account that laws may vary depending on each country.
Almost 100% of the digital files that can be accessed on platforms such as Thingiverse, Cults, CGTrader, and MyMiniFactory come with some type of license attached. Licenses are decided by the creators of said files.
Websites like Thingiverse encourage their users to keep Creative Commons licenses. These allow the free distribution of works that would otherwise be under copyright; in this way, anyone can use or modify any design of the platform. However, many of the users choose to restrict the usage of their works by forbidding their commercialization.
Though the type of license and symbology may vary according to the site being consulted, with the following table you will be able to visualize the most common types of licenses that you could find.
| | | | |
| --- | --- | --- | --- |
| Type of license | In the presence of this symbol… | You may… | Under the following conditions… |
| Copyright | | use, edit, sell | Obtaining express permission from the author |
| Creative Commons (CC) | | use work in a certain way (within copyright law) | Obtaining permission from the author |
| Creative Commons – Non-Commercial | | use, edit | Mentioning the author, and not generating income |
| Creative Commons – Attribution (CC BY) | | use, share, edit, generate income | Mentioning the author |
| Creative Commons – Attribution – Adaptations (CC BY – SA) | | use, share, edit, generate income | Mentioning the author and licensing the material edited pursuant to the same terms |
| Creative Commons – Attribution – Non-Commercial (CC BY – NC) | | use, share, edit, adapt and work on the existing file | Not generating income. It is not necessary to license the material edited pursuant to the same terms |
| Creative Commons – Public Domain (CC0) | | use, share, edit, work on the existing file and generate income (Allows the creator to waive copyright) | No conditions |
Where to sell 3D prints
There are many platforms that allow you to sell your items in exchange for a small commission. The good thing about this type of platforms is that it is possible to generate sales without resorting to marketing strategies.
Some platforms options are:
You may also sell your items by creating your own online store. There are sites that allow you to set up your own e-commerce website in just a matter of minutes, such as:
Get started with custom items
Ideal for those creative entrepreneurs, building custom items on demand offers you the chance of setting out the difference from the competition, providing unique and original items from existing products.
There is undoubtedly a wide variety of customizable items, among which lithophanes, bookmarks, and keyrings are excellent options to get started with a business. Let's see what this is about.
Lithophane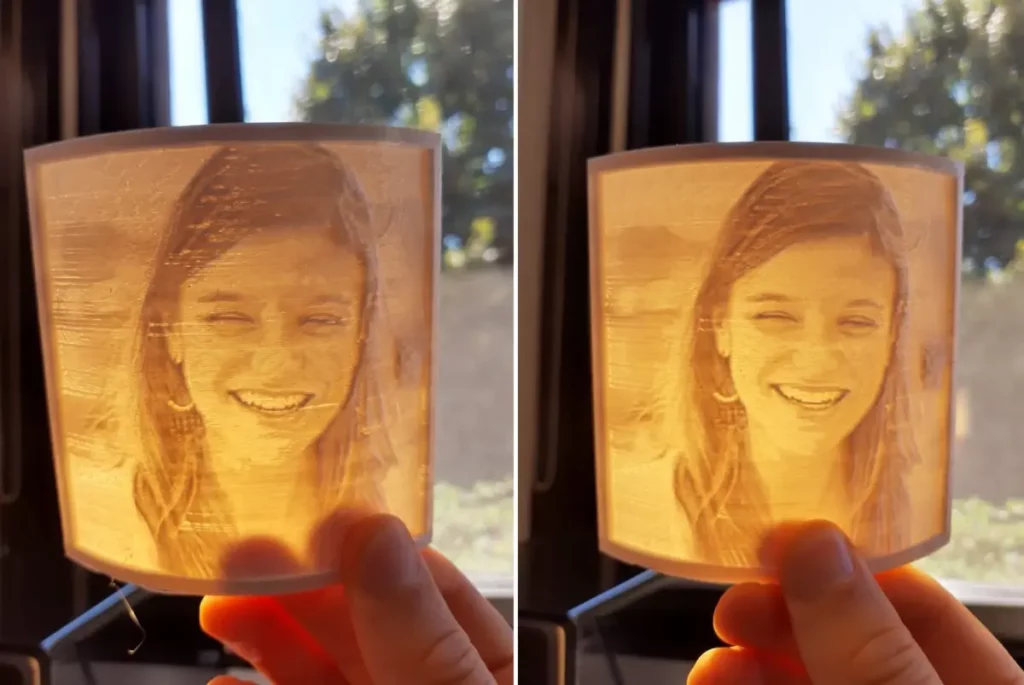 This is a process used to print 3D photos. This is achieved by printing a sheet that, as it has different thicknesses, changes the opacity of each part, that is to say, the amount of light that passes through the sheet. This technique creates a scale of light values (of the color of the plastic) that finally manages to form the image.
Due to its versatility, it is an excellent customizable option that allows printing any image or photograph of the customer's choice. Furthermore, it is an ideal technique to build lamps. For instance, the website Litophane Makers offers you a tool to turn your images into lamp models made from this technique.
Check out our article where we explain how to create your own lithophanes step by step.
Bookmarks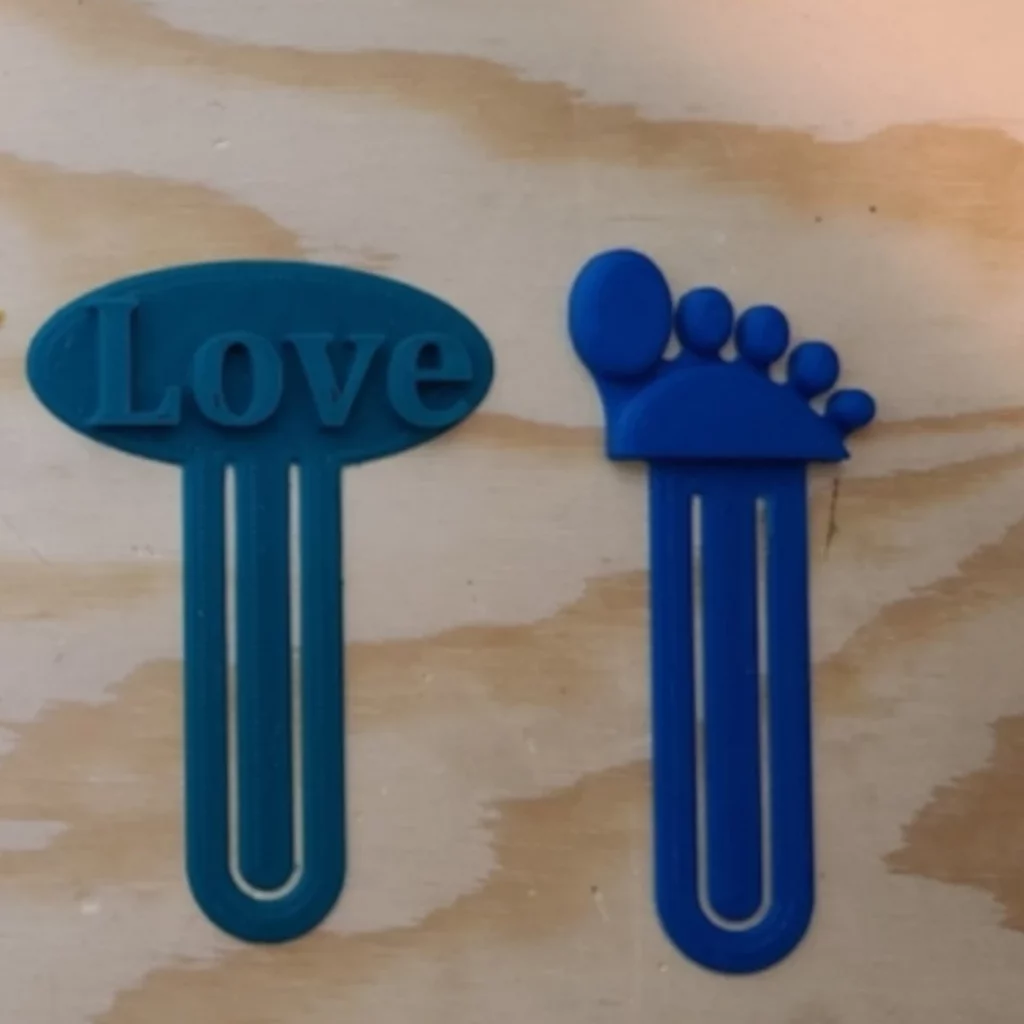 For those reading lovers, a bookmark is essential not to lose track of the reading. It is possible to print all kinds of bookmark designs that, besides perfectly fulfilling their function, will decorate books in a fun way and allow you to get rid of boring paper bookmarks.
You may see various bookmarks in our own file browser.
Keyrings
Having a keyring makes something as common and boring as the bunch of keys that we all have become something unique and personal.
Since they are usually small, they are an option that generates little material expense and allows you to print several at once.
Lamps
The home decor items market has grown in recent years. Buyers seem interested in such original and fun items that attract those who visit their homes.
Lamps, which may be designed in an infinity of ways and can be customized to suit each person, are an excellent example of this.
When printing lamps, it should be noted that medium to high volume printers is generally required. This is because, given their textures and designs, they do not usually look aesthetic when printed in parts and then glued together, as this will change the way light passes through the lamp and make the joints more obvious once the light is on.
Dog poop bag container barrels
This type of container is usually very useful when carrying bags for pets' waste due to its practicality.
These containers have a small hole that allows you to add a hook in order to hang them on your pet's collar or leash.
Though there are simpler designs, this design in particular is nice since it simulates those barrels that are usually associated with Saint Bernand dogs. Furthermore, they can be printed in different sizes to fit each dog.
Spartan SD Card Holder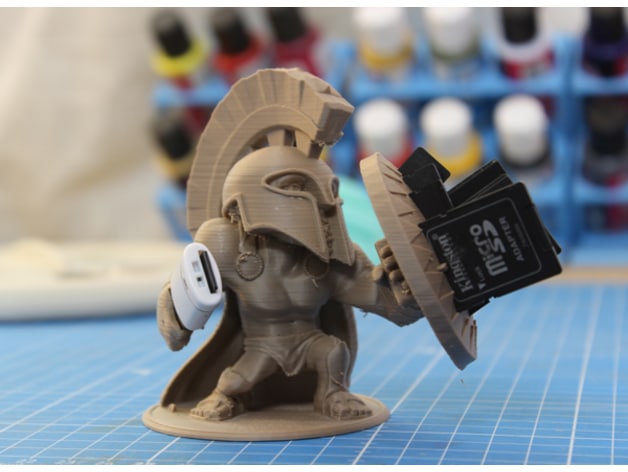 This is one of those items that anyone would feel tempted to buy. This little warrior is here to save desktops from clutter and keep those SD cards we all have from getting lost.
Coral Soap Dish
This detachable and easy to print soap dish is a great instance of how you can affordably create an eye-catching design item that would sell without any inconveniences.
3D printed cities and ruins
Miniatures always manage to get people's attention, which is related to the nature of human behavior (I suggest investigating why). Many brands use this knowledge to make their products more irresistible. This is a resource that will undoubtedly be effective when selling city miniatures, which are used not only for decorative purposes (as ornaments, paintings or lamps) but also as toys or for the making of mockups.
Check out more models related to buildings and miniatures for tabletop games here!
Statues and Monuments
These models recreate famous places, buildings, statues, and other monuments. We can find everything from highly detailed architectural models of a particularly famous building to models of sites like Stonehenge.
Besides their decorative usage, these models are employed in the educational field as a teaching tool and are even often used in board games, particularly in role-playing games to create worlds and stories.
Flower pots
It is a very popular product in the world of 3D printing. With so many models, they have become design items that will add to the decoration of any space.
In recent times, self-watering pots have become popular. The fact that they are hard to find in stores makes them a perfect option for you to offer at your business.
These flowerpots are usually designed in two parts: one contains the plant and the other functions as a water reservoir.
Whatever the model, since they are items that will be in constant contact with water and eventually used outdoors, two things should be taken into account: on the one hand, their material should bear said conditions and, on the other hand, 3D printed pieces usually have microscopic gaps left between layers, which could cause leaks. One solution to prevent water seepage would be covering the whole piece with a non-toxic clear sealant.
Hydroponic Systems
Hydroponic systems use cultivation techniques that do not require soil usage. The supply of water and nutrients occurs through a complete nutrient solution, providing the plant with the necessary conditions for its development.
There are many hydroponic cultivation methods that adapt to the resources and kind of plant that you want to grow.
The different structures to build these systems are easily printable and, if you are interested in selling the complete system, you should consider adding additional necessary elements such as pumps or sprinklers in some cases.
As with flower pots, you should take into consideration that their material should bear conditions of constant humidity.
Vases
Due to the exotic shapes and designs that can be created with CAD software, vases are a great option for you to begin earning money with your printer since results end up being more modern and sophisticated than any commercially available flower vase.
Take into account that, as in the case of flower pots, an insulator will be necessary to prevent leaks.
Replicas & Props
Replicas or props are recreations from some audiovisual production usually created to be exhibited or used in cosplays, such as armor or helmets.
When speaking about this type of product, most clients will expect professional-level finishes that try to reproduce every last detail. For this reason, this business option will require more time and effort than any other taking into account the printing (they are usually large pieces) and post-processing time. However, buyers of this type of work are often willing to pay large sums of money so in the end you will be able to make your time worthwhile.
D&D Miniatures (Dungeons and Dragons)
Miniatures for role-playing games like D&D are often small and have high-level details, which means that if you are really interested in making money selling such miniatures, you better have resin printers that will allow you to achieve these levels. They are one the funniest items to print and sell.
These pieces are often sold unpainted so that buyers can give them the details they see fit. This is good news as it will save you a lot of time and material in the post-processing of the pieces.
Jewelry (For Resin Printers)
The success of selling 3D printed jewelry requires creativity and quality to be able to compete in a market that is quite overloaded with artisans and hobbyists.
Since jewelry pieces are often small, only a small amount of material is required to print each piece. This implies a low-cost production that allows multiple pieces to be printed at once.
Given that these pieces require high levels of detail, to keep a high-quality standard you will need 4K or higher (6K/8K) resin printers.
You may see different models related to jewelry in 3dSolved.
Cell Phone Cases and Accessories
The market for cell phone cases and accessories is quite large and 3D printed versions are not left out. However, if you are interested in selling cases, it is best to focus on those unique, exotic or custom models that manage to attract buyers and are able to compete with the cheap versions already available in any store. A good example is this case with gears.
A very useful accessory in countless versions and designs that adapts to different needs and cell phone models is the cell phone holder. It is used to hold phones while using the GPS in the car and even when you want to record a video and there is no other person around to help you.
Cases for Raspberry Pi and Arduino
The Raspberry Pi is a series of low-cost single-board computers ideal for home electronics projects.
Since these plates are small, it is good to have cases or covers that, besides protecting the components, provide a more compact and functional appearance.
While selling these cases has its own potential, if you are also good with electronics, you could sell fully assembled Raspberry Pi projects.
You can see different models related to RaspberryPi in 3dSolved.
Eyeglass frames
This is an industry where 3D printing has also had an impact, making custom manufacturing of these items easier and cheaper. In the case of eyeglasses frames, being able to customize them ensures a perfect fit and this is what many customers might prefer.
You can see different models of glasses in 3dSolved.
Custom Bottle Carrier
This bottle carrier is a handy item for those who need to carry their bottles or make a gift.
If you are interested in selling this item, you should first test the strength of the structure to ensure that the print is strong enough to support the weight of the bottles. To that end, the creator of this design suggests printing the main body with 100% infill.
Headphone Holder

We all have headphones, and without a doubt more than once have spent a long time trying to untangle them, only to have them get tangled up again when we put them in our pocket or backpack.
These headphone holders are certainly an option that would sell well as they are little, quickly to print, do not require much material to be manufactured, and would make life easier for many (or perhaps I am exaggerating).
Cookie Cutters

3D printing also seems to have reached the cooking world with the manufacturing of cookie cutters.
Once again, designing and printing your own items allows you to create new and original designs that will catch buyers' attention.
As they are items that will be in direct contact with food, you must be careful with the material that is used. PETG is the most recommended one since it is used, for instance, for the manufacturing of bottles.
You may see different cookie cutters in 3DSolved.
Fidget Toys

Fidget toys are little toys that fit in the hand and can be easily carried in a pocket. Due to their constant and repetitive movements, they often help release stress and anxiety.
This type of product is easy and cheap to print and it often catches the eye of customers.
In this video, you will see several examples of this kind of toy.
Mini Wheels for Console Controllers and Joysticks
For those car game lovers who do not want to spend large sums of money on steering wheel-shaped controllers, this is a much cheaper option as well as functional. Furthermore, the good news is that there are designs for the joysticks of the different existing consoles.
Electric Guitars
Historically, guitars have been made of wood. However, 3D printing comes to revolutionize another field by bringing the possibility of printing fully functional guitars.
It should be taken into account that the difficulty of this type of product does not lie only in the printing process but also in the post-processing and assembly work, which requires certain knowledge of guitar lutherie.
How much money should you expect to make selling 3D prints?
When determining the profit that should be expected from the sale of this type of items, there are several factors that will play their part.
Everything is connected. Time, cost of labor, designing, printing, assembling, packaging, and logistics will be involved when deciding if the final cost of the product allows you to make profits in the end.
Another aspect to take into account is the added value of the product, which depends to a large extent on the object in question and not on the technology that is used. If a given object is pretty popular, then competition makes it barely possible to cover the costs. However, when it comes to unique objects of a particular design, customers do not hesitate to pay higher prices if they are interested in the product.
In this video you will see how they experimented when manufacturing an item in small sets in order to assess what the profit margin profit was, and if it was really convenient to use this technology for its manufacturing. The person in question published the article on Etsy and, considering all the factors that I mentioned above, ended up with a 50-cent profit per dollar, that is to say, about half the initial cost of each item. To conclude, for such a size of production, this is a profitable business and manufacturing method.