In many ways, 3D printing is limited only by your imagination. Sometimes, however, the limitations of the technology can easily catch up to you. One of the most present limiting factors on an ambitious print job is the physical dimensions of your 3D printer.
Printing huge statues or parts for large machinery is something that can be done by specialized 3D printers, but the consumer market also has a wide range of options for people looking to go big. There are many choices suitable for both beginners and experts alike.
Keep reading to see details and comparisons for some of the best 3D printers with large build volumes.
| | | | | | |
| --- | --- | --- | --- | --- | --- |
| Printer | Build Volume | Auto Bed Leveling? | Direct Drive/Bowden | Dual Extruder? | Price(USD) |
| Creality CR-10 Max | 450x450x470mm | Yes | Bowden | No | ~ $1000 |
| Creality CR-10 S5 | 500x500x400mm | No | Bowden | No | ~ $700 |
| Tronxy X5SA-500 Pro | 500x500x600mm | Yes | Bowden | Yes | ~ $800 |
| He3D K280 Delta | 280x600mm | Yes | Bowden | No | ~ $350 |
| FLSUN QQ-S Pro | 255x365mm | Yes | Bowden | No | ~ $400 |
| Core 3D Tech "The Big Delta" | 320mmx1220mm | No | Bowden | No | $4000+ |
| Creality Ender 5 Plus | 350x350x400mm | Yes | Bowden | No | ~ $580 |
| Vivedino Troodon | 300x300x400mm | Yes | Direct Drive | No | ~ $1670 |
| Modix Big-40 & Big-60 | 400x400x800mm | Yes | Direct Drive | Yes | $4200 – $9000 |
| Raise3D Pro2 Plus | 300x300x600mm | No | Bowden | Yes | ~ $6300 |
| Phrozen Transform | 292x165x400mm | No | N/A | N/A | ~ $2700 |
| Peopoly Phenom Prime | 276x155x400mm | No | N/A | N/A | ~ $2800 |
If you want to go straight to the review and description of one of the printers listed above, go ahead and click on the following links!
Benefits of Large 3D Printers
There are many great things about larger 3D printers. Printers with large build volumes can print larger pieces. This is the most obvious advantage of large 3D printers. However, they also cost more (sometimes a lot more), and they can present their own issues when it comes to build quality.
Build volume: Bigger printers can build bigger pieces.
Contiguous printing: A bigger printer can print large parts as a single contiguous piece.
Big batch printing: Even with smaller pieces, a bigger printer can print more of them in a single job.
Next, let's take a look at some of the limitations of large volume 3D printing.
How Larger Printers May Negatively Affect Print Quality
There are a few ways that larger printers pose new problems when it comes to 3D printing. Some of these are related to the increased print size compared to the same or similar extrusion mechanisms. Other issues exist due to the weight and inertia of the moving print plate during a print job.
Moving print bed: Some larger 3D printers have a heavier printbed that can negatively affect build quality as weight is added to it.
Cost-effectiveness: Big print jobs use up more filament and can take longer than smaller jobs. Sometimes, it can be cheaper to simply commission your larger prints from specialized printing services.
Time and effort: Bigger printers are large and complex. Dealing with the problems that come with this can be very time-consuming. Larger prints also sometimes take longer than smaller prints and have a higher probability of failure.
Quantity over quality: If you want a large 3D printer for printing large batches of smaller objects, it may be cheaper and faster to simply go with multiple smaller printers rather than one large one.
Larger Printer Doesn't Necessarily Mean Faster Prints
It seems intuitive that a larger print job will generally take longer than smaller one. But will a larger 3D printer be able to print smaller objects faster? Unfortunately, this is not always the case. Many larger 3D printers use the same nozzles and extrusion mechanisms as their smaller counterparts, and expecting them to perform at higher speeds can frequently result in disappointment.
If you want to use a larger 3D printer with the expectation of printing things faster, you will have to pay a lot of attention to the parts and fine-tune the settings in your slicer software to ensure print quality. Generally, faster prints mean lower quality.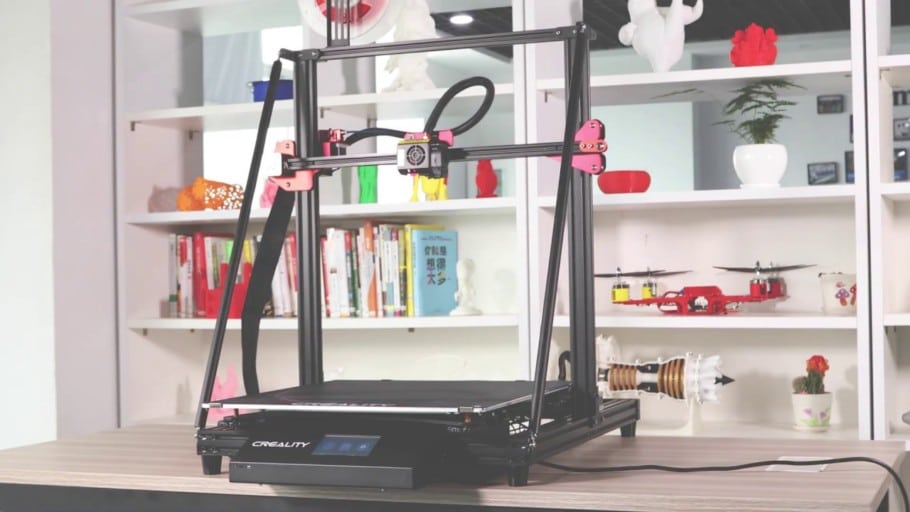 The CR-10 Max from Creality expands on the feature set of the CR-10 line by adding a few features that make it more comfortable to use compared to its predecessors. In particular, the CR-10 Max uses a number of high-quality brand-name parts in place of some of the more generic components of other CR-10 models.
It has auto bed leveling, although there are some reports online that this can be a bit sketchy without a firmware upgrade. Luckily, there are also manual adjustment knobs for leveling the print board yourself.
Other nice features include the dual nozzle that allows for faster prints when dealing with larger objects. It also has a heated print bed which notably heats up and cools down fairly quickly. It also has an integrated control board for increased stability and reduces overall space taken up by the printer.
Features
450x450x470mm
Suitable for printing PLA, PETG, TPU, and more
Pros
Large build volume
High-quality components
Heated print bed
High-quality control board
Cons
Not as large as other options on this list
It may be buggy without a firmware upgrade
Only micro SD connectivity
You can find the Creality CR10 Max here: Creality Website, Amazon, 3D Printers Online.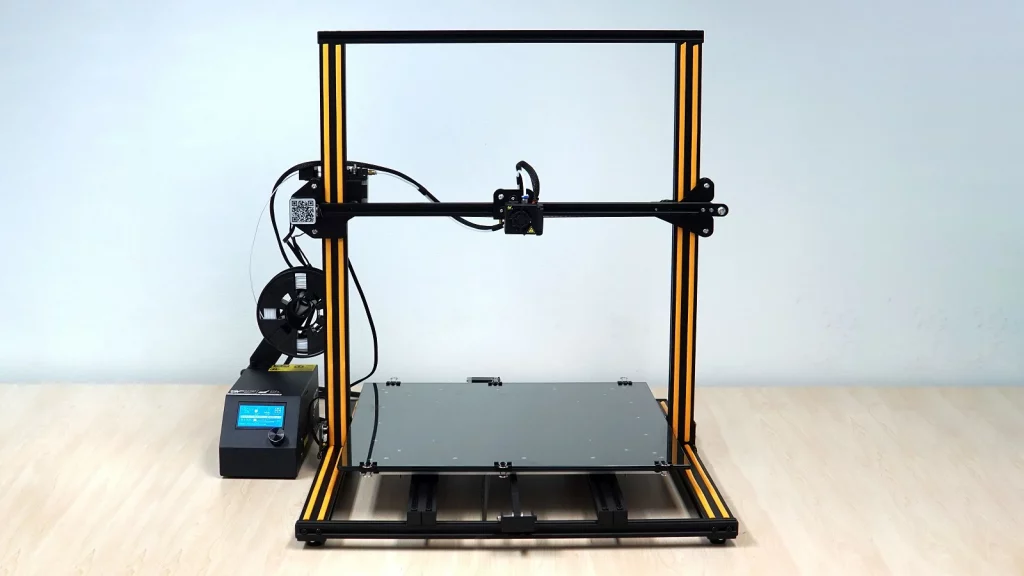 The CR-10 S5 is one of the largest printers available from Creality. It is also relatively affordable given the large print volume of 500x500x500mm. It has a solid set of features, but curiously lacks the "golden triangle" featured on other larger Creality printers.
The interface lacks a touch screen, making it feel a bit outdated compared to other options on this list, but the printer still performs well on large prints for the price. It has a heated print bed that must be manually leveled, making it a bit less friendly for beginners to use.
Due to the increased size, the manufacturer has advertised an upgraded circuit board that allows for more stability with longer prints.
Features
500x500x500mm build volume
Suitable for ABS, PLA, PETG, and flexibles
Heated print bed
Pros
Relatively affordable given the build volume
Upgraded circuit board for long print jobs
Cons
No automatic bed leveling
Outdated control box
No "golden triangle"
Comes only partially assembled
You can find the Creality CR-10 S5 here: Creality Website, Amazon, 3D Printers Online.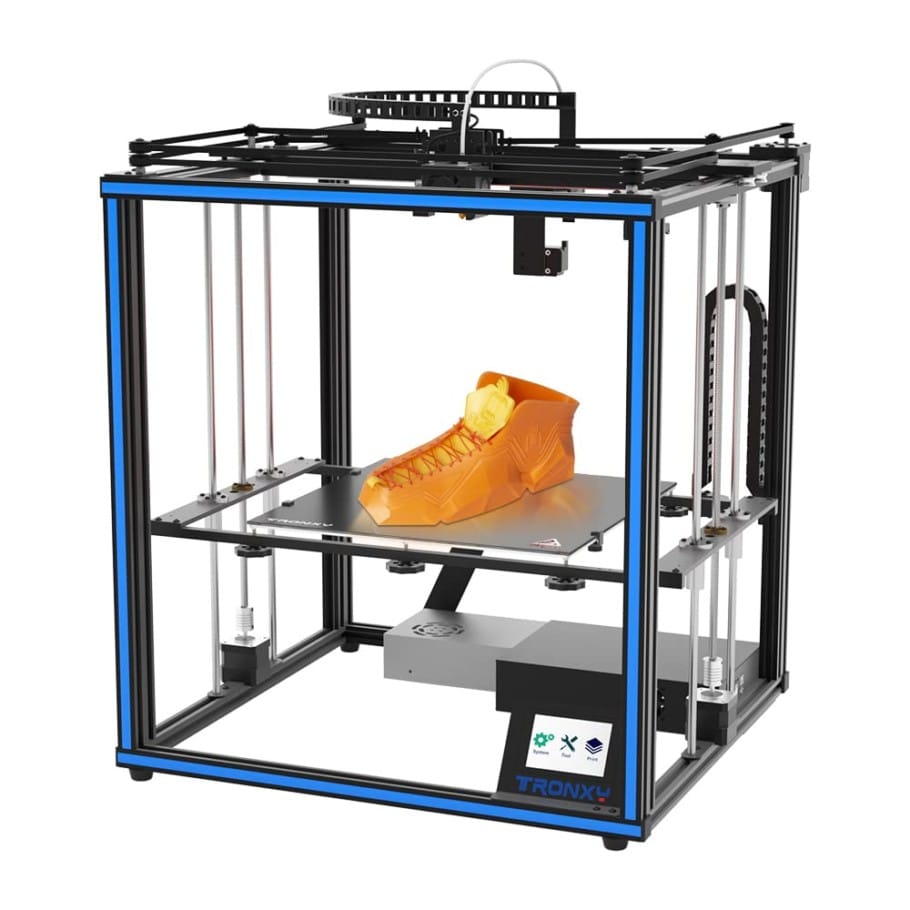 While this printer is a bit more advanced than the other options on this list, it is still a good choice for experienced people looking for a larger 3D printer. The XS5 series is well known for being demanding in terms of setup and configuration, and so it might be prohibitive for beginners.
That being said, the X5SA-500 Pro is a good option for those willing to put in the time and effort. The print bed is driven by dual-stepper motors, and it has a huge build volume at 500x500x600mm. It is also relatively affordable compared to other more advanced large printers on this list.
If you want to get the most out of this printer, you will probably want to make a few upgrades, which is one of the reasons it is not recommended for beginners. If you want a good starting point to build on, though, this is a great choice.
Features
500x500x600mm build volume
Suitable for printing ABS, PLA, TPU, nylon, carbon fiber, PVC, HIPS
Auto bed leveling
Heated platform
Pros
Affordable compared to others of this size
Good starting point for upgrading
Auto bed leveling
Cons
Not as feature-heavy or flashy as other large 3D printers
Takes a lot of time and effort to start working with
Requires upgrades to really make it shine
You can find the Tronxy X5SA-500 Pro here: Amazon, Banggood, 3D Printers Online.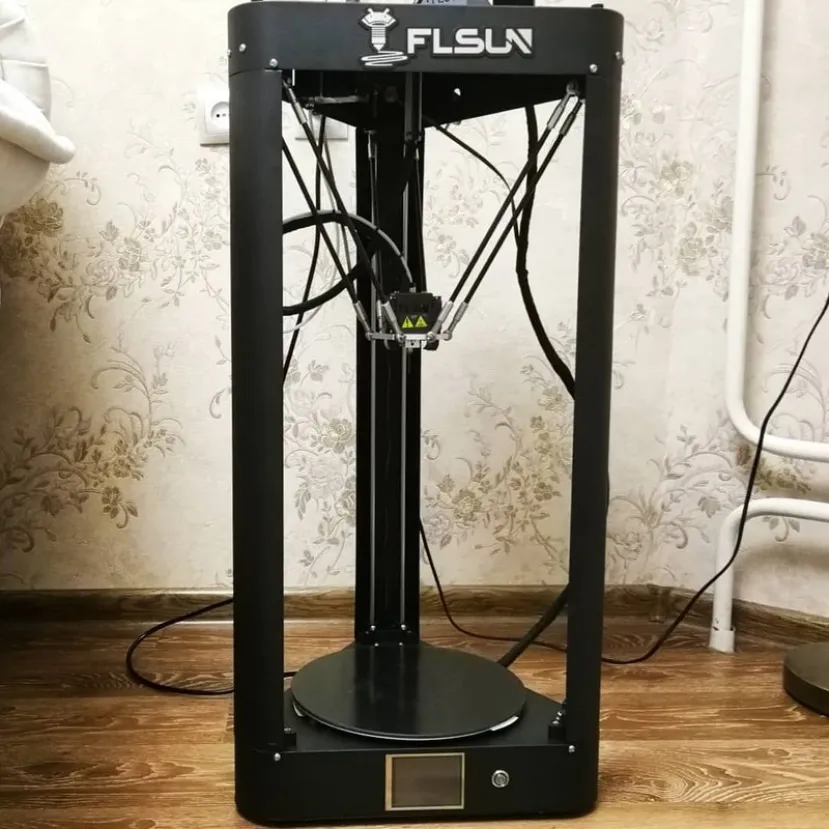 The FLSUN QQ-S PRO is a delta printer designed to be a well-equipped and affordable entry point for beginners and experienced printers alike. It is an upgraded version of the QQ-S with automatic bed leveling and wi-fi connectivity.
Delta 3D printers are known for their ability to retain print quality at high speeds, owing to the orientation of the mechanisms and the stationary print bed. They are generally suited to taller construction, and the QQ-S PRO is no exception. The manufacturer claims that the QQ-S PRO can print up to 120mm/s.
The lattice platform features a composite coating for added stability. The heated print bed cools quickly and allows objects to be easily removed from the print bed after printing. It also has auto bed leveling and a high-quality 32-bit controller board.
Features
255x365mm build volume
Suitable for ABS, PLA, PETG, and flexibles
Heated print bed
Auto bed leveling
Composite-coated lattice platform
Pros
Good delta printer for beginners
Well-suited to taller print jobs
Sleek design
Cons
Comes only partially assembled
Less build volume than other options on this list
You can find the FLSUN QQ-S PRO here: Amazon, 3D Printers Online.
Core 3D Tech "The Big Delta Printer"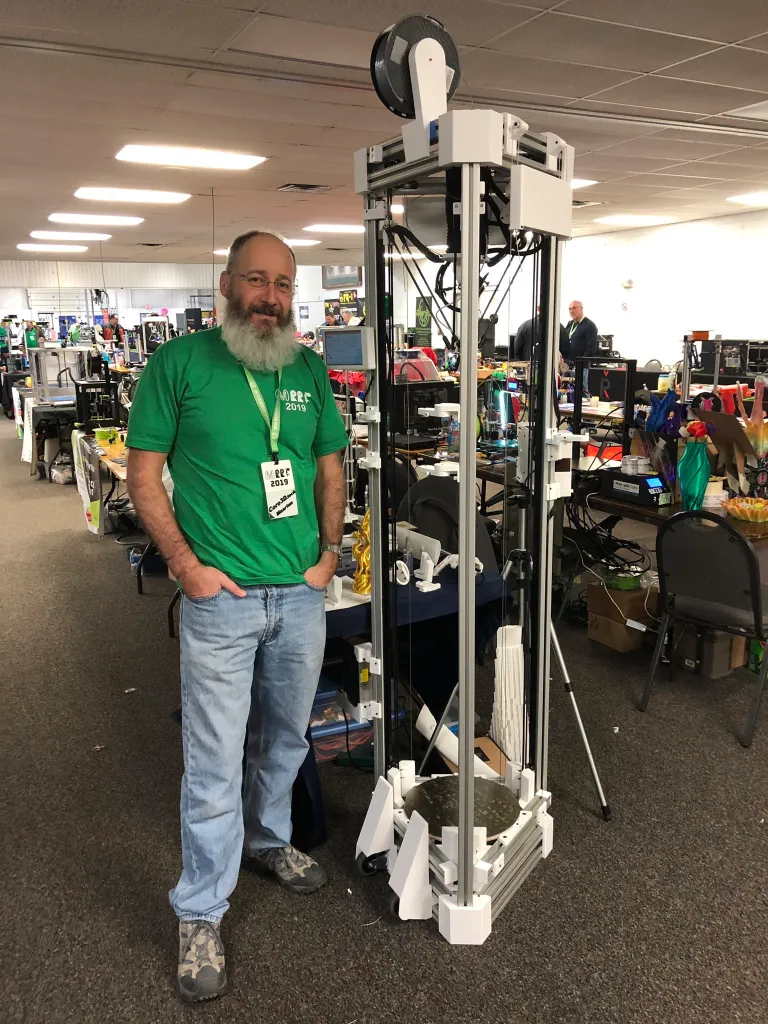 With a build volume of 330x1240mm, "The Big Delta" truly lives up to its name. It is not a cheap printer, and cannot be purchased pre-constructed. You can only build it by purchasing the off-the-shelf parts used in its design. Some of these parts can be very expensive depending on where you live, but the printer itself is very accurate and large to make up for the trouble of putting it together.
It has a number of really great features on top of its huge build volume. It has a heated bed, cooling fans for various parts, a flying extruder, and can reportedly reach print speeds up to 400mm/s. Many of the parts used in its construction are also 3D printed to help temper the overall cost of the machine.
It has a 32-bit controller with Duet wifi connectivity. Overall, this printer is powerful, large, and well-designed. It's perfect for those up to the challenge and cost of putting it together.
Features
330x1240mm build volume
Suitable for a wide range of printable materials
Heated print bed
Duet wifi connectivity
Pros
Very large build volume on Z-axis
High-quality construction allows for quality prints at high speeds
Mostly off-the-shelf and 3D printed parts
Cons
Parts must be purchased and constructed yourself
Extremely expensive
No auto bed leveling
Creality Ender 5 Plus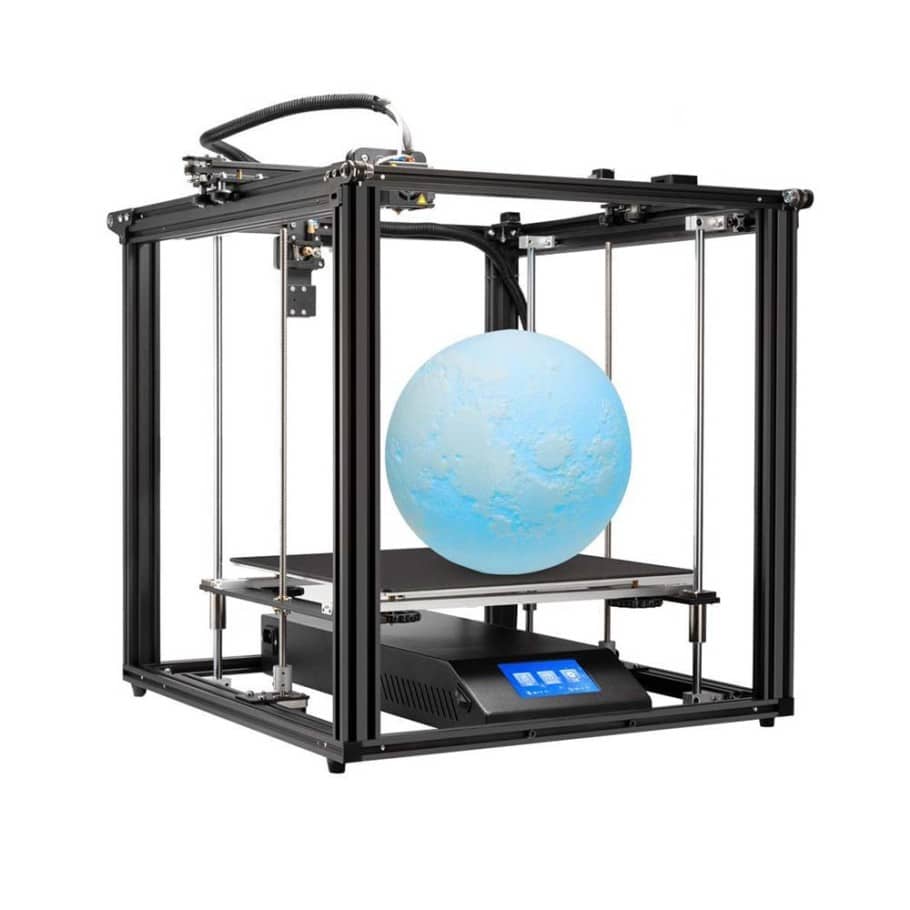 Creality has a competent budget line of printers that includes the Ender 5 Plus. Striving to draw a balanced profile between performance and cost, providing a large build volume with decent quality for a relatively affordable price. While this printer is a great option for those looking for a large print volume without breaking the bank, that tradeoff does come with some caveats.
The cables and tubes in the construction can sometimes come dangerously close to the print, potentially causing issues. The motors driving the Z-axis may also be prone to drifting, requiring recalibration to ensure quality with long term use. It also requires more setup compared to fully constructed printers like the Troodon.
That being said, the feature list is solid. The printer has auto bed leveling and a stationary print bed to help your larger jobs stay solid. It also requires minimal configuration to start printing once it's actually set up.
Features
350x350x400mm build volume
Heated platform
Auto bed leveling
Suitable for PLA, ABS, TPU, composite filaments
Pros
Good quality for the price
Easy to set up and use
Auto bed leveling
Stationary build platform
Cons
Motors prone to drifting
Cables and tubes dangling near print
You can find the Ender 5 Plus here: Creality Website, Amazon, 3D Printers Online.
Vivedio Troodon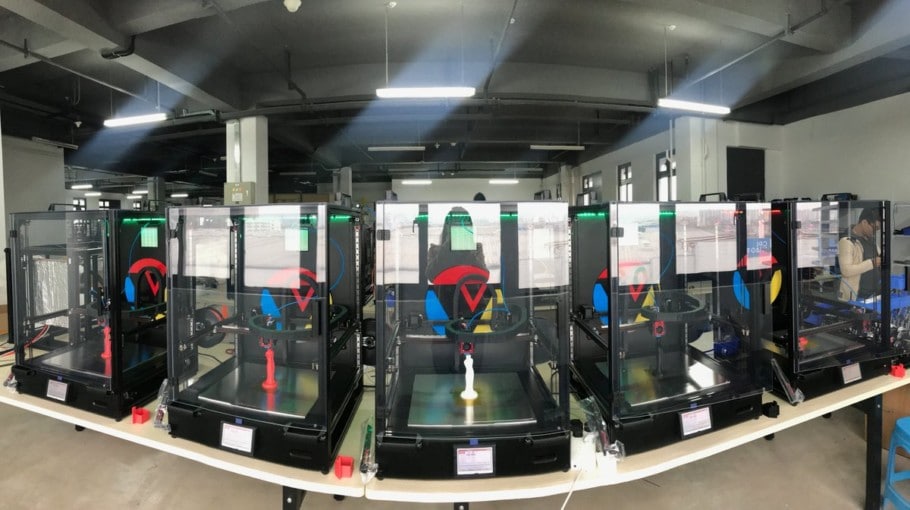 Vivedio offers a couple of different versions of the Troodon large volume 3D printer. It comes in 300x300x300mm and 400x400x500mm build volumes. They come with a dual extruder that prints on a stationary print bed, and have auto-leveling features as well.
The design is based on the open-source Voron CoreXY and comes fully assembled with machined parts for the hot end and other places where the original design would use 3D printed or brand name parts.
This is a good option if you're looking for a pre-built large-volume printer that has the functionality of a trusted open-source design, and you don't want to go through the hassle of setting the thing up too much yourself.
Features
300x300x400mm or 400x400x500mm build volume
Suitable for printing with ABS-tpe materials
Auto bed leveling
Heated platform
Pros
Large build volume
Auto bed leveling
Comes fully assembled
Cons
Based on a more robust and versatile open-source design
Off-brand parts such as the hot end and mainboard
Modix Big-40 and Big-60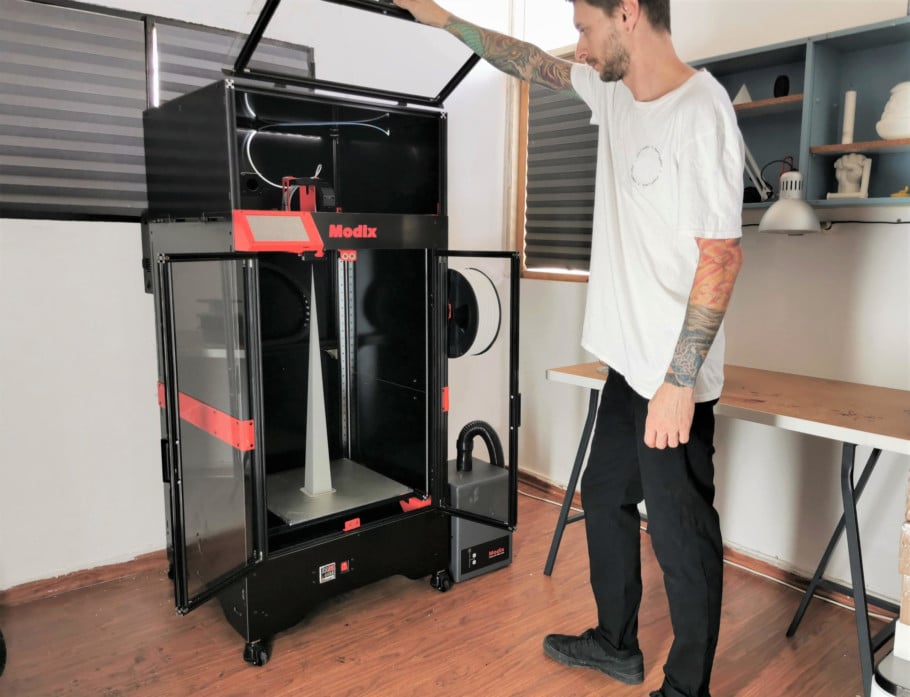 Modix has two options for big printers; the Big-40 and the Big-60. Their build volumes are 400x400x800mm and 600x600x660mm respectively. The Big-40 has an overall smaller print volume but has one of the largest vertical build capabilities on this list.
Both printers have a great set of high-end features, such as high flow E3D Volcano hot ends, heated print boards, and fully enclosed printing environments. Both models are also highly customizable with extra amenities if you're willing to cough up extra cash.
The two main drawbacks of these printers are the size and the cost. These machines don't come cheap, and you will probably have a hard time finding a place in your home to store them. However, they do both have a Duet3D wi-fi mainboard, allowing you to potentially operate the Printer from anywhere in your house or facility.
Features
Huge print volumes
Suitable for ABS, PLA, PETG, carbon fiber, composite
A large number of upgrade options from the manufacturer
E3D Volcano hot end
Duet3D wi-fi mainboard
Pros
Huge print volumes
Lots of optional features for increased price
Sleek design and fully enclosed print environment
Heated print board
Cons
Expensive
Large and cumbersome
Extra upgrades cost more from the manufacturer
Raise3D Pro2 Plus
Raise3D Pro2 Plus
This is a professional-grade large-scale 3D printer with a 305x305x605mm build volume. As a consumer printer, it has quality and features that rival more professional and industrial options. Accordingly, this printer is a bit pricier than other entries on this list.
This printer is mostly designed for labs and manufacturers as a prototyping solution. As such, it is not designed to be customized or upgraded. However, it is capable of providing quality results as-is.
This is a solid choice if you're in the market for a professional 3D printer with a large build volume capable of consistently high-quality results. It's great as-is if you're willing to spend the money on it.
Features
305x305x605mm build volume
Suitable for almost any FFF material
Magnetic heated print bed
Enclosed print environment
Touch screen interface with wifi connectivity
Pros
Great quality prints
Optimized for professional workflows
Full enclosure
Sleek design
Magnetic heated bed
Large amount of printable materials
Cons
Relatively modest build volume compared to other professional printers
More suited to experienced printers than beginners
Expensive
Phrozen Transform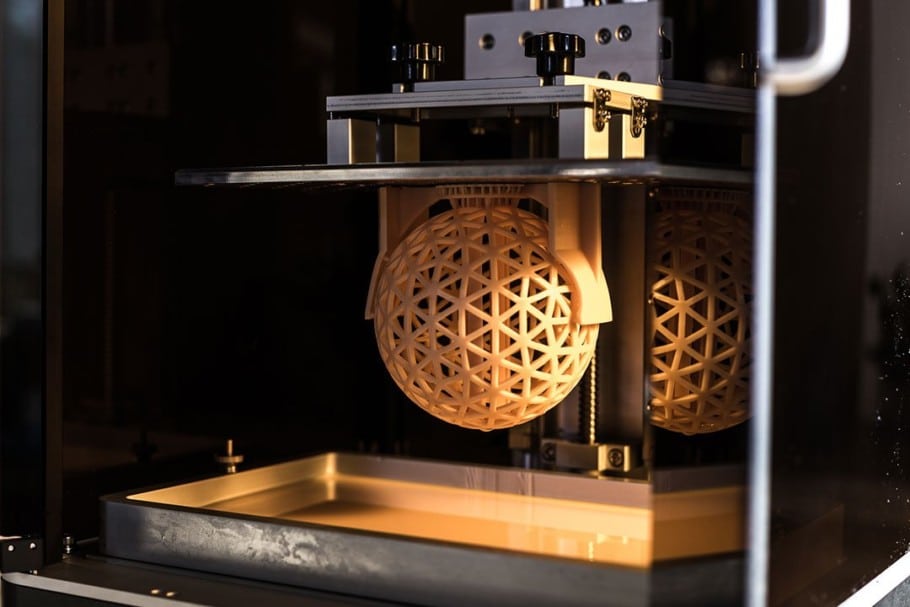 The Transform by Phorzen is an LCD resin printer with a minimum layer height of 10 microns. It has replaceable LDC matrices and a very stable Z axis. This is a great option for a large volume resin printer that is capable of printing two models simultaneously with the replaceable double panel.
The two replaceable panels include a 13.3-inch single panel and a double panel of 5.5 inches. The double panel can be used for highly detailed pieces, while the single panel can be used for larger models. Phorzen also manufactures a series of specialized resins specifically meant for use in their printers.
Features
292x165x400mm build volume
Prints resins compatible with 405nm LCD printers
Interchangeable single and double panels
Wifi connectivity
Usable with proprietary or third-party polymers
Pros
Affordable compared to other high-quality LCD printers
Large build volume
Can print two objects at the same time
Cons
Slow printing speed
Only usable with LCD polymers
You can find the Phrozen Transform here: 3D Printers Online.
Peopoly Phenom Prime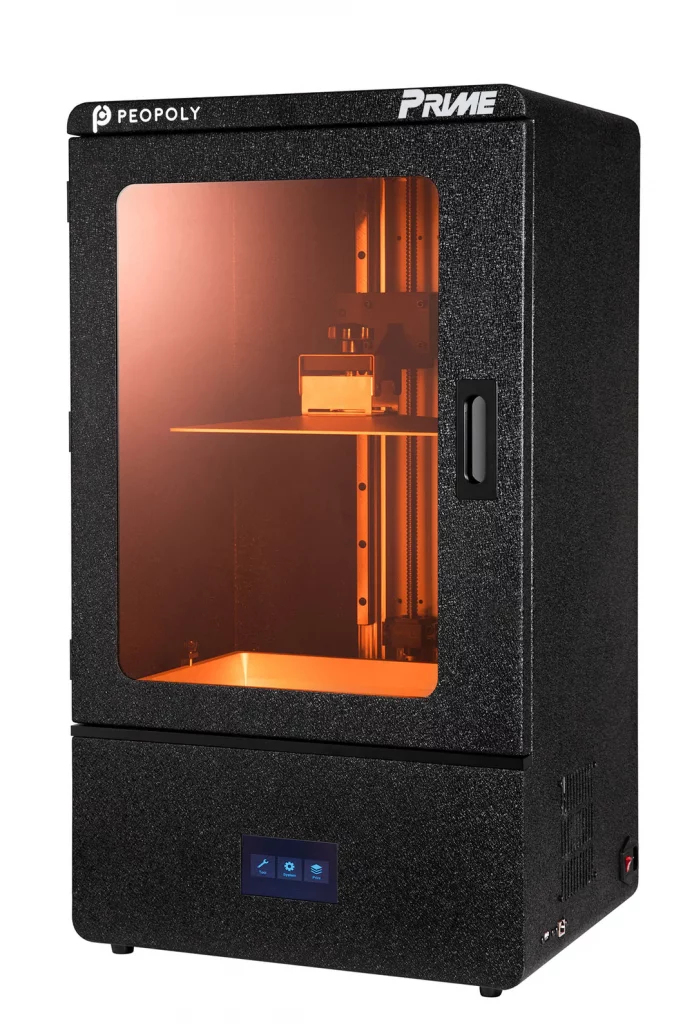 Peopoly phenom prime is another relatively affordable LCD printer with a large build volume. This one is 275x155x402mm and is capable of producing high-quality prints while being relatively easy to use. However, it should be noted that you need to pay close attention to the settings in its proprietary slicer software in order to get things printing properly.
The Phenom also is compatible with either Peopoly's specialized "Delft" resin, or a third party LCD resin. Unfortunately, the LCD screen inside the printer may become damaged over time and require replacement. Replacing the screen can be a bit of a hassle if you're not used to toying around with LCD printers.
Features
275x155x402mm print volume
Pros
Relatively affordable
Supports many different resins
Large build volume
Cons
Loud printing process
LCD screen must be replaced once in a while
Honorable Mentions
There are a number of other options for large volume 3D printers that didn't quite make the cut for this list. Some of them are not as big, while others are not realistic for a consumer setting. Let's take a look at them now.
Industrial 3D Printers
There are some industrial-sized 3D printers available with enormous build volumes. These include the Magnum 3D printer, which has over 2 cubic meters of build volume. This one is available for commissioned objects, but is currently not available for purchase.
There is also a series of industrial printers available from Markforged. These printers are available for purchase by labs and businesses, and there are a wide range of options to choose from.
Ender 3 Max
The Creality Ender 3 Max is an upscaled version of the Ender 3 Pro. It is available for an affordable price, but can be a bit outdated in terms of technology and interface. However, it can also be easily upgraded and customized like other Ender 3 models.
Anycubic Photon Mono X
The Photon Mono X from Anycubic has a decent build volume of 192x120x245mm. It is a resin printer with an XY axis resolution of 0.05mm. It has wifi connectivity, but setting up the connection requires uploading your wifi password to the printer as a .txt file, which is a bit unwieldy.
Maine University 3D Printer
If you've ever wondered what the largest 3D printer is, it's probably the 3Dirigo printer at Maine University. 3Dirigo holds not one but two Guinness world records for 3D Printing. The first is for the world's largest 3D printed boat, which is 25 feet (7.62m) long and took 72 hours to complete. The second record held by this monstrous machine is for the world's largest 3D printed object.
There is also an enormous delta printer being built at Massa Lombarda in Italy, for the purpose of constructing cheap and eco-friendly dwelling structures. However, construction on the project is not yet complete.
And that's it for my list of the best large 3D printers. If you have any questions or concerns, feel free to fire away in the comments section.