Among the multiple applications of 3D printing, we can find the physical representation of full-scale terrains. This includes both geographical features (mountains, hills, and all kinds of landforms) and human-modified environments (cities, reservoirs, etc).
These types of prints can result from 3D generated models by means of photogrammetry (a mapping advanced technique of making measurements through photographs). Photogrammetry is used in fields such as geography, mapping, the survey of large structures, environmental impact, and many more areas of interest.
Users found it difficult to understand two-dimensional representations in the field of mapping ages ago. Now, however, they don't have this issue as there is an easier way to print and analyze these types of representations.
So, what is more convenient for printing terrains? A resin printer or a traditional FDM printer?
Aspects that should be considered
For the purpose of helping you choose the printer that best suits your needs, all the available choices will be described below.
Quality and Precision
In terms of precision, resin printers are unbeatable. Since laser technology is implemented, small object resolution is significantly superior.
On the one hand, whereas a regular nozzle cannot print less than 0.4 mm (the layers enlarge in size when they get deposited on top of the previous one), a 3D resin printer can achieve a 0.05 mm resolution. Due to the new 4K resolution LCD screens, resolution can be reduced significantly more: up to 0.01 mm for a nearly perfect resolution.
On the other hand, FDM printers are characterized by the surface finishing of the overlying layers, which makes them unsuitable for providing print precision. For this reason, they are not usually used in two fields strongly related to resin printing such as orthodontics or jewelry
Price and Cost
There is not much difference between FDM and resin printers if how much they cost, the material used for printing, and the inputs that they need in order to print are all taken into account.
While resin printers that are more affordable can cost approximately u$s 350, an FDM printer can cost u$s 200.
Even though you may reconsider the initial investment due to the print quality, the fact that the material used for printing is more expensive than filament must also be taken into account. The price of resin per kilogram is at least 10 times higher than the price of PLA filament per kilogram, which is cheaper.
There is always the risk of unsuccessful prints, especially when you are learning how to use the printer. Consequently, the cost of resin increases even further every time resin is misused.
When plastic filament is used, making mistakes is "cheaper".
Lastly, isopropyl alcohol is used to clean the printers. Isopropyl alcohol is also expensive.
A damp cloth tends to be sufficient for cleaning filament printers.
Speed
In terms of 3D printing, speed is a synonym of compromising quality. This means that it is possible to achieve fast prints if you don't mind that each piece loses resolution.
FDM printers tend to be used for rapid prototyping, usually when the finish quality of the object is not so important. Resin printers, on the other hand, are slower but the finish of the object is definitive.
Whenever terrains are printed, one of the most wanted characteristics is print resolution. Successfully printing small details is essential because their use tends to be related to tasks that require a high level of precision.
The slopes of the landform, the cracks of rocks, or the impact of sedimentation are too small to be printed with an FDM printer in a short period of time.
You should take into account that the entire print area that is available is used for these types of tasks and that it can take several days to achieve a high-quality FDM print.
Capacity/Volume
We have mentioned the main characteristics and differences between FDM and resin printers in our article titled: 3D FDM Printers vs Resin Printers. We suggest that you read it so as to have more information about this.
As a general rule, the average build volume of the hot bed of medium and low-cost FMD printers is 20x20x20 cm.
In addition, some FDM printers have a build volume of 30x30x30 cm and they don't cost much more money. On the other hand, resin printers are smaller in size. They have a build volume of 12 x 8 x 16 cm (16 cm is the maximum height they can achieve).
From this perspective, FDM printers are highly superior if you want to cover the specific needs that are required for printing terrains.
The Best 3D Printers for printing terrains: FDM and Resin Printers
The best printers that are available in the market for printing terrains are described below, both FDM and resin printers.
The most important characteristics that must be covered to achieve high quality and precise prints have been contemplated, even in the smallest sectors of the model to be printed. This refers to an appropriate resolution, a large build volume, and reliability in terms of design and print speed.
Other aspects that are also taken into consideration are how much these printers cost and if they are in the market.
It is worth mentioning that this list does not include delta printers that are mainly characterized by their high print speed without quality being compromised
Aunque su accionamiento particular suele permitir la impresión de objetos muy altos, el tamaño de su base circular es demasiado reducido y no resulta muy adecuado para imprimir grandes extensiones de terreno. Even though the unique design of delta printers allows really tall objects to be printed, their circular base is too small. For this reason, they are not considered to be appropriate for printing large terrains.
The best FDM printer: high quality and great reliability
Prusa i3 MK3s+ has been considered to be the best choice in terms of 3D FDM printing for ages. This is because this type of printer produces pieces that have unbeatable quality.
Basically Plug & Play 3D, the Original Prusa I3 is characterized by the quality of its parts, the constant enhancement of its firmware, the rigidity of its structure, in addition to a direct drive Bondtech extruder with an E3D V6 hotend, which allows several types of filament to be correctly melted.
Since this type of printer is significantly rigid, it can achieve printing speeds of more than 200mm/s, with a build volume of 25×21×21cm. It has an automatic bed-leveling system, with a high-sensitivity SuperPINDA sensor.
3D Prusa provides a premium quality layer of filaments. It is characterized by PLA Vanilla White, which is a color that is an excellent base coat for terrain painting. Other brands offer PLA Wood, which consists of a combination of PLA filament and wood fibers and which creates a stylish finish of pieces that do not require to be painted.
Why is it ideal for printing terrains? It combines the best FDM quality, high print speed, and a large build volume, with the warranty of the world´s most prestigious printer manufacturer. However, it has one disadvantage: its price. Even though this printer is not excessively expensive if its components and features are contemplated, some users may not be able to buy it.
You can buy the Prusa i3 MK3S+ here:  Official Prusa Website
The best price-quality ratio in the current market!
Not only has the Creality Ender 3 become the best-selling printer for several years because of its increasingly higher quality in terms of manufacture but also for its unbeatable price.
The Creality Ender 3 S1 is an upgraded version of this type of printer which incorporates new functions and characteristics that potentiate all the positive aspects that the Creality Ender 3 already had.
Its build volume has been increased to 22 x 22 x 27 cm. Besides, it has incorporated a direct extruder with small inertia so that its print speed is not reduced. It has an estimated maximum print speed of 150 mm/s.
It has a 32-bit silent board that achieves a print quality of +-0.1mm resolution. In addition, it incorporates some functions such as the filament sensor, auto bed-leveling, and power failure renewal.
The integrated hotend allows the use of filaments with print temperatures below 260ºC, which involves most of the materials that are mainly used. The Ender 3 S1 Pro, which is a little bit more expensive than the S1, could be useful if you want to print materials such as Polycarbonate because it can print at 300ºC.
You can buy the Ender 3 S1 and S1 Pro here: Creality Website, Amazon, Banggood, 3D Printers Online.
The only printer that can print endlessly!
The Creality CR-30 has changed the perspective in terms of domestic 3D printing. It allows infinitely large models to be printed due to its hot bed that incorporates a conveyor belt, which moves based on the model´s needs. The only limitation is the width and the length of the model, which must be smaller than 20 x 17 cm.
Even though new users may find it difficult to use it, the most appropriate choice for printing large terrains that extend in the direction of the conveyor belt may be continuous printing.
It has mostly traditional characteristics: it can print at a temperature of up to 240ºC and this excludes some materials for specific use. In addition, the print speed is not as high as could be expected.
You can buy the Creality CR-30 here: Creality Website, Amazon.
Practicality and good pricing
Artillery Genius is a synonym of user-friendliness and Artillery Genius Pro incorporates an upgrading package and, as a result, many people choose to buy it.
It has automatic leveling, silent drives, double Z-axis, and reinforced cartesian style.
Its print speed can reach 250 mm/s and, as a result, the print time is reduced to the minimum. If this type of printer is contemplated for printing terrains, the fact that it has a build volume of 22 x 22 x 25 cm is considered. This means that the size is slightly greater than the size of printers within the same price range.
It has a direct Titan extruder with Volcano hotend, which is extremely reliable and precise. As a result, it allows all the details to be correctly printed in each layer.
In terms of price-quality, the Artillery Genius Pro is practically unbeatable and it is one of the best types of printers for both amateur and expert users.
You can buy the GeniusPro here: Amazon, Banggood, 3D Printers Online.
Recommended for demanding and experienced users
Until now, we have described FMD cartesian printers, which are already cheap and are the best printer choice for amateur users. However, there are also Core XY printers that have highly rigid structures and that incorporate high-precision linear rails.
Core XY TRONXY X5SA Pro is a printer that has a build volume of up to 33 × 33 × 40 cm, an aluminum shell, Titan extruder and print temperatures of up to 275 ºC. As a result, it is possible to print materials such as Nylon, which is a material that is not easy to print.
It is an ideal choice for printing large terrains due to the size of its base and the quality that can be achieved with this printer. As it has many positive characteristics, the negative aspect is in terms of price, in addition to the fact that it needs to be assembled since it comes in a DIY kit.
Core X/Y printers also print at a much faster speed when compared with cartesian printers. The reason for this is that the extruder moves in the Y-axis instead of the bed. As a result, many flaws are eliminated, such as ringing or ghosting.
You can buy the Tronxy X5SA-500 Pro here: Amazon, Banggood, 3D Printers Online.
Huge and high-quality printers
This printer is named after and characterized by its large build volume: 40 x 40 x 40 cm. It has a double Y-axis for moving and bearing the bed´s weight when the largest possible parts are printed.
It has precise and reliable auto-leveling, which is an essential requirement for the calibration of large printers.
Even though it is a bit slower than its smaller siblings, it can reach 260 ºC. In addition, it has a filament sensor and an HD touchscreen.
You can buy the Creality CR-6 Max here: Creality Website, Amazon.
Maximum reliability in a compact size
The Prusa Mini is a smaller version of the Prusa I3 and it has practically all its functions and characteristics for a lower price. It has a build volume of 18 x 18 x 18 cm, which is smaller than the Prusa I3´s build volume. This may discourage people who need large terrains to be printed from buying it. If requirements are not so limiting, the Prusa Mini may be an intermediate choice of printer which is worth considering.
Another difference between the Prusa Mini and the Prusa I3 is that the Prusa Mini does not have a direct extruder, which does not allow very flexible materials to be printed since they are difficult to push through the Bowden tube.
You can buy the Prusa Mini+ here: Prusa Website.
The largest build volume
As this printer has a build volume of 40 x 40 x 45 cm, there isn't any other printer that has this build volume within the same price range. For this reason, the Kobra Max can fully satisfy the requirements for printing terrains, without quality being compromised and with a very satisfactory speed: up to 180 mm/s
It comes pre-assembled and it has auto-leveling, power failure renewal, and a filament sensor. This last characteristic is practically essential for this type of printer since an entire filament spool can easily be melted each time it is used.
You can find the Anycubic Kobra Max here: Amazon, Banggood, Anycubic Website.
A huge Resin 3D Printer at a great Price!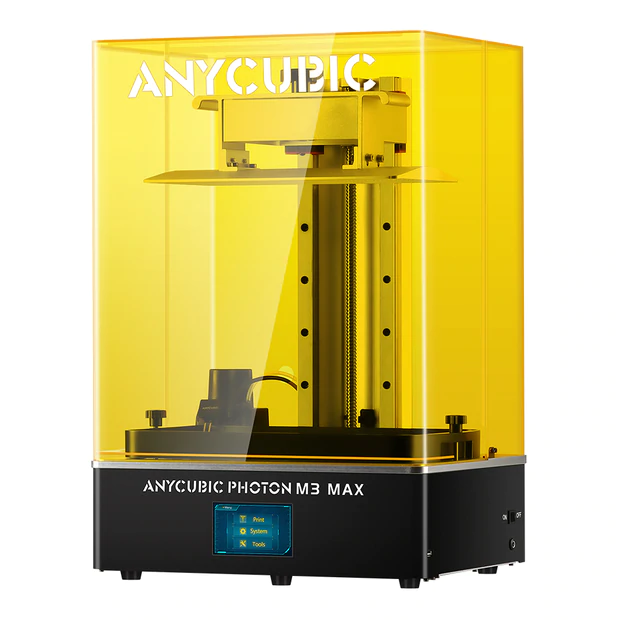 Following the analysis of the resin printers, there is the Anycubic Photon M3 Max, which is an SLA printer that has a large build volume. It is possible to replicate up to 29,8 x 16,4 x 30 cm objects. As a result, the standard build volume in affordable resin printers is highly outweighed.
It has a speed that reaches 6 cm height per hour. A 7k screen (6,480 x 3,600 pixels) contributes to its precision. In addition, high-quality and detailed objects can be produced.
You can buy the Anycubic Photon M3 Max here: Amazon, Anycubic Website.
Maximum speed with Prusa quality
This printer is characterized by its print speed as it reaches 1,4 seconds of exposure time on a 2560×1620 pixel resolution screen.
It has an aluminum shell that allows a precise operation so that industrial-level quality results are achieved. It has a maximum build volume of 12,7 × 8 × 15 cm, which is a bit small for terrains but they have exceptional quality.
This is the perfect resin printer for people who need to have small details of a terrain printed as fast as possible.
You can buy the Prusa SL1S Speed Here: Prusa Website.
A great choice for tight budgets!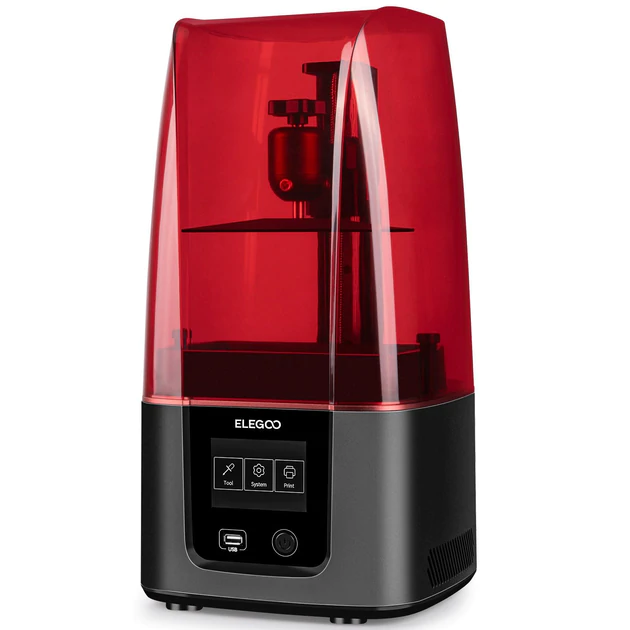 The Mars 3 de Elegoo incorporates a 4K high-resolution screen to achieve a 0.035 mm XY resolution. As this printer has a maximum build volume of 8,9 x 14,3mm x 17,5 cm, it is the ideal choice for people looking for the best price-quality ratio.
You can buy the Elegoo Mars 3 Ultra 4K here:Elegoo Website, Amazon.
Phrozen Sonic Mega 8K
The most ambitious printer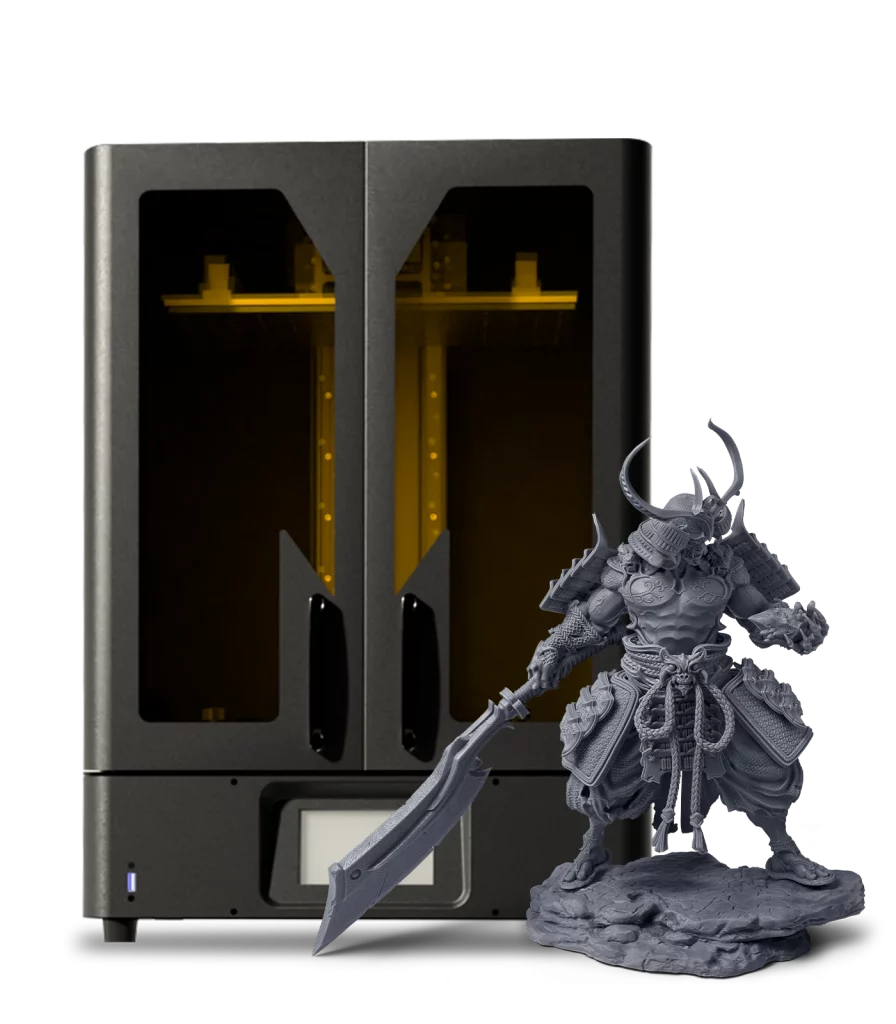 In terms of design, the objective of this printer is to eliminate every 3D printing limitation. Excellent quality, fast print time and XXL volume are achieved.
As it has a build volume of up to 33 x 18.5 x 40 cm, there is no way that this printer can´t be used for printing terrains. However, it costs more than u$s 2200. As a result, amateur users are discouraged from buying it.
You can buy the Phrozen Sonic Mega 8k here: Phrozen Website.
When should FMD or Resin printers be used?
If there is access to both printers, it is possible to optimize them and achieve precise and affordable results at the same time. This is accomplished by splitting the model to be printed into two categories: those parts that need fine details and those that may be fastly printed without paying much attention to the finish of the parts.
FDM printers can be used for printing trees, vehicles, bridges, small buildings, or even people and animals. Resin printers are ideal for printing small objects as they are widely used in this field. For this reason, all these pieces could be printed separately and a printer that does not cost much money and that has a small build volume can be used.
On the other hand, FMD printers can be used for printing terrains and their landforms. Big hills or large buildings take up a lot of space and they don´t have fine details that require high resolution. For this reason, an affordable filament printer is a perfect alternative.
The ultimate consolidation of the terrain results from sticking the pieces together. If this process is perfectly performed, it is nearly imperceptible. The only aspect that needs to be improved to add realism to the resulting diorama is painting the terrain with colors that have more resemblance to the represented nature.
What type of paint is used for painting these pieces?
The same type of acrylic decorative paints used in airplane modeling and small objects can be used for painting both plastics mainly used in FDM printing and photosensitive resins used by SLA printers.
The only problem that remains to be solved relates to the paint's adherence to the piece, which depends both on the type of material to be painted and its surface roughness. For this reason, primers or imprimates, which are adherence bases that function as intermediaries and that allow the correct adherence between the object and paint, are used.
Even though primers can be the base coat of any type of paint, you should always use the same brand of paint and the same imprimate. As a consequence, a perfect finishing result will be produced. In addition, there won't be low-adhering areas.
Some of the best quality brands for successfully printing terrains are described below.
Brands of Primers
Tamiya: One of the most well-known brands around the world. It has a great variety of products for both hobbyist and professional use.
Revell: Synonym of the highest level in terms of model building. This brand has its own line of products for realistic terrain and vehicle painting.
Krylon: This brand lives up to automotive and industrial paints. It has a wide variety of colors and tones.
¿Qué impresora recomendamos para imprimir terrenos?
What type of printer is recommended for printing terrains?
If you don't want to buy both printers for printing terrains, the best choice may be to buy a good and reliable FDM printer. In addition, there is no better choice than the Prusa I3 in order to take advantage of all its characteristics.
Many users may obviously opt to buy a cheaper printer. In this case, there are not many doubts about it: the Ender 3 S1 Pro, which has a large build volume and doesn't cost so much money, is the best in all respects.
Conclusion
There is no doubt that there are a lot of options to choose from since many printers have been described. Natural terrain printing requires a large build volume and fine details in small areas. The best option to achieve professional results is to buy 2 printers, a large FDM printer and a resin printer of high resolution.
We believe that users should firstly buy an FMD printer and postpone buying a resin printer since most of them would be required to spend an excessive amount of money.