If you are a maker or a 3D printing enthusiast having fun printing cool models you find on the internet, there will inevitably come a time when you want to change a design to meet a specific requirement of yours or just create a new one from scratch.
You will soon find out there is a big list of programs you can use to that end. I've been there and I know it is easy to get overwhelmed but don't worry! In this article, I will show you both Blender's best and worst features and compare them to similar programs so you can decide if it is a good fit for you.
Blender is a remarkable piece of software and will satisfy anyone's needs regarding not only 3d printing but also animation, simulation, and rendering. In addition to being a powerful tool, it is also free and open-source for everyone no matter if it is for personal or professional use. It has a steep learning curve but it is well worth it for all the functionalities it offers.
Is Blender easy to learn?
Blender is not the easiest software to learn, especially if you are approaching it without prior experience in 3D modeling. It is not as hard as it used to be, since in the latest updates the UI has been cleaned up quite a bit and made much more user-friendly.
Beginners might get frustrated at first because of the fact that this is a complex program with a lot of functionalities, so try and focus on one topic at a time to avoid getting overwhelmed. If you put in the effort the reward is an amazing tool with many applications, from animation to 3D printing.
Is Blender popular in 3D printing?
Blender is the most used software for 3D printing when it comes to creating organic shapes. Otherwise, it is not the most practical software for designing precise and technical objects for which there are better-suited programs, like Fusion360.
With Blender, you can design very complex models, and sculpting allows for fast and easy modeling. Unfortunately, those models could be unstable and fail in the 3D printing process.
Luckily Blender introduced a new feature called "3D Print Toolbox" which you can use to analyze your models and find out flaws that can lead to potential printing errors.
If you want to model organic shapes such as animals, humans, or monsters Blender is one of the best options available simply because of the fact that it is free, open-source, has powerful features, and a thriving community that is constantly improving the program.
Can you design anything using Blender?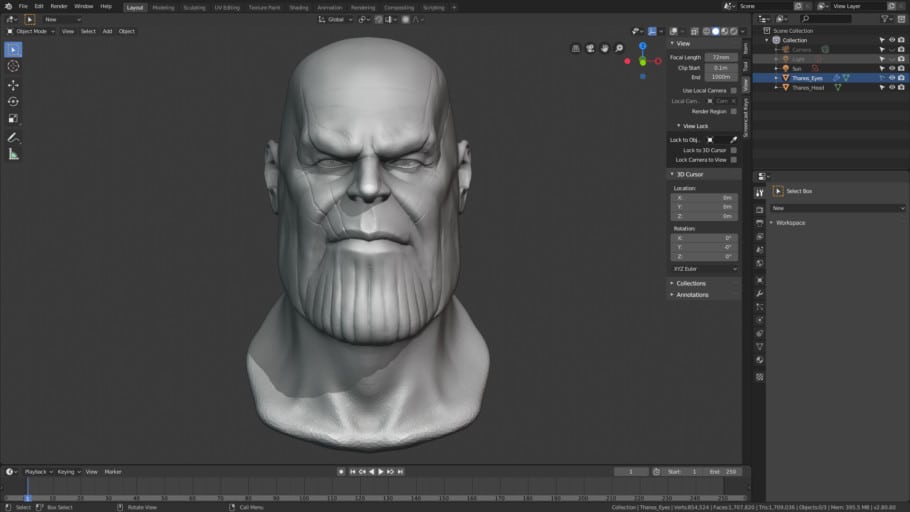 Blender is a free open-source 3D modeling software with many tools and features that allow users to design anything they can think of. It can be hard to use compared to other 3D printing software but you can achieve impressive levels of detail.
Although it is possible, Blender is not the most appropriate for 3d printing industrial parts for mechanical engineering, industrial manufacturing, or architecture as it is harder to achieve the precise measurements required for those endeavors. Think of Blender as a sculpting tool: it is an amazing program to model organic shapes!
Blender is better suited for artistic design, where you care more about the natural appearance of lifelike forms than dimensional accuracy. This can be troublesome when it comes to obtaining a stable geometry for additive manufacturing. Fortunately, the "3D Print Toolbox" add-on can be used to check your model for weaknesses so you can fix them before sending it to the printer.
Online resources for learning Blender
There is a very active community behind Blender, as it is free open-source software. Many users choose to contribute by making videos and tutorials explaining the many features of this software.
I found this Blender Guru's YouTube channel to have great educational content, so make sure to check it out! Also, the Blender Foundation provides free tutorials on their website and YouTube channel. If you are just getting started these video series explain the what's, how's, and why's really well.
Popular alternatives to Blender
Blender vs Maya
Maya is a software mainly used for 3D animation, simulation, modeling, and rendering so it can be used for the same purposes as Blender. The main difference between these two lies in the cost and ease of use.
Blender is free open-source software, whereas you'll need to pay a subscription in order to use Maya. Students and educators can use Maya for free if they qualify for the educational plan. You can check out if you qualify for a free license here!
Maya also offers a 30-day free trial, after which you will have to pay a subscription in order to continue using the program. Maya is mostly used by professionals and big companies that can afford the software, and Blender is the choice for most hobbyists, freelancers, and small studios.
Both programs are developed and maintained for all the main operating systems (Windows, Linux, and Mac). Maya's interface provides a cleaner and simpler user experience compared to Blender's as its features are clearly more intuitive to use.
Currently, Maya lacks the option to check your design to see if it is ready for 3D printing before sending it to the printer. As I said before, you can do that with Blender's 3D Print Toolbox.
Blender vs SketchUp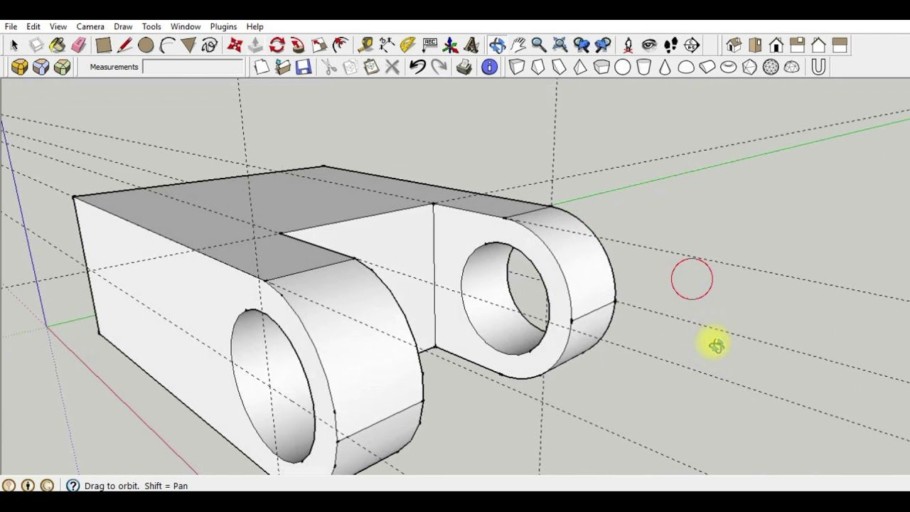 SketchUp is a popular browser-based option for 3D computer-aided design. It can be used for free like Blender but it also has paid versions that add more features.
SketchUp is considered by most users to be one of the easiest 3D CAD modeling programs to get started in the 3D designing world. It is possible to achieve a fairly decent skill with the software in no time and with little difficulty. This is because of its user-friendly interface, which is very intuitive to pick up, even for someone without a 3D modeling background.
On the other hand, Blender's learning curve is much steeper, especially for someone without prior experience in 3D modeling. Blender allows for a more complex design whereas SketchUp's narrow focus is intended for simpler use.
Sketchup is typically used in construction and interior design, so you will have a hard time modeling any curved or irregular lines. Thus, I would advise against using it to model organic figures. Quite on the contrary, Blender is the perfect tool to model organic shapes and is ideal for artistic design. If you would like more information about SketchUp check out this article I made.
Blender vs ZBrush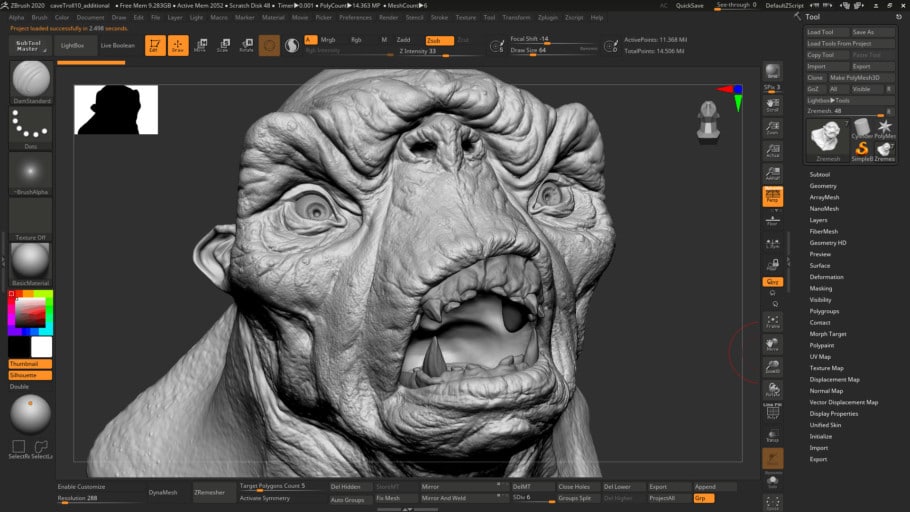 ZBrush is a 3D modeling software primarily made for sculpting as it has an immense and refined selection of sculpting brushes while Blender has a wider range of uses from modeling to animation.
ZBrush sees more use in the professional scene since it is mainly used by big studios and requires you to pay a license or subscription in order to use it. On the other hand, Blender is free open-source software mostly used by hobbyists, freelancers, and small studios.
If you are into hyperrealism art, ZBrush is the better option for handling a higher polygon count and achieving amazing quality details, which can be hard to accomplish with Blender. Both are great tools for artistic design and both will take time to master all their features.
Frequently asked questions
Do you need a license for Blender?
Blender is free software. Whether you want to use it for personal or commercial purposes you won't need to spend any money to use this software. As it is open-source, you and others can use Python coding to extend the software's functionalities by creating your very own tools.
Can you use Blender without a mouse?
It is possible to use Blender without a mouse and in fact, some users prefer it that way. You can use a Wacom tablet or a trackpad to replace the mouse.
What operating systems does Blender support?
Currently, Blender is being developed and maintained for Windows, Mac, and Linux operating systems.
Can you export STL files in Blender?
Blender supports a wide range of file formats that can be used to import and export. This includes STL files, which are the most common format used for additive manufacturing.
Conclusion
Now that we have discussed the primary aspects of Blender, it is clear that it is an amazing tool for anyone interested in 3D printing organic figures.
No other option offers the same amount of features and quality for free. For similar quality programs (such as ZBrush), you will need to pay a license or subscription in order to use them.
It takes time to learn the ways around the many functions it offers but it has one of the most active communities around 3D modeling software, so there is a lot of excellent educational content to get you through the learning phase.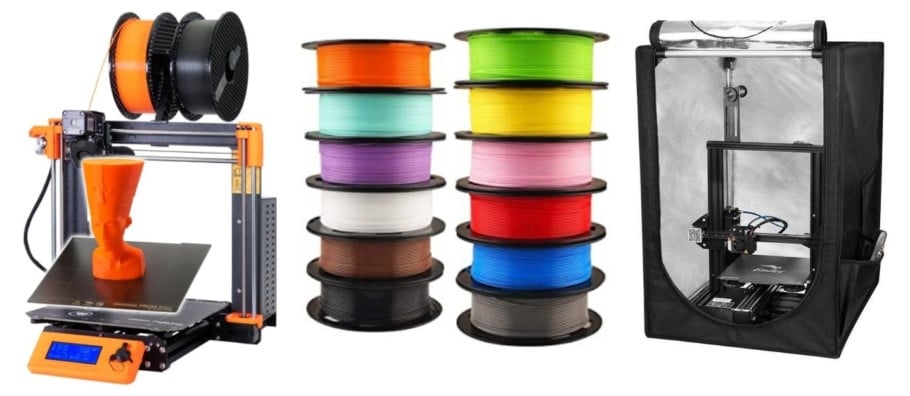 We created a recommended products section that will allow you to remove the guesswork and reduce the time spent researching what printer, filament, or upgrades to get, since we know that this can be a very daunting task and which generally leads to a lot of confusion.
We have selected just a handful of 3D printers that we consider to be good for beginners as well as intermediates, and even experts, making the decision easier, and the filaments, as well as the upgrades listed, were all tested by us and carefully selected, so you know that whichever one you choose will work as intended.