You're thinking about purchasing your first 3D printer but you decide to do your due diligence and research the costs associated with each type of printer.
Well, FDM printers print use filament and SLA printers use resin, and the reality is that one is much more expensive than the other, and that's not all, using a resin printer comes with some additional costs that you may not have though about.
So, in this article I will go over the differences between these two types of printers, the costs of the materials used to print (filament and resin), and all the additional costs associated with resin printers.
Lastly, I will give you my opinion on which one you should get.
Filament vs Resin Cost
A 1Kg filament Spool of PLA, ABS and PETG sells for $20 and the price of resin is $15-$45 for 500ml and $28-$80 for 1 liter.
However, resin printers have many other associated costs that can't be ignored, such as replacing the resin tank, usually $40, buying large quantities of isopropyl alcohol as well as protective equipment, and a UV curing lamp.
What are FDM Printers?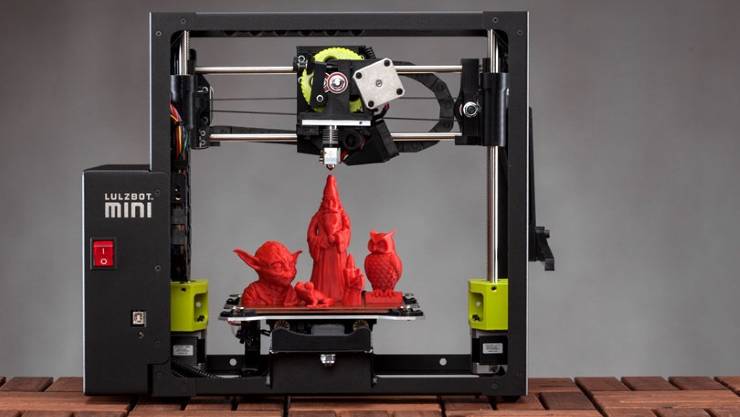 FDM (Fused Deposition Modelling) printers, also known as Fused filament fabrication (FFF), are 3D printers that use a continuous filament of thermoplastic material to fabricate or build an object or structure layer by layer.
As the thermoplastic filament passes through the printer's head, which moves along a horizontal plane, it is melted and deposited onto the structure being built. The melted plastic's heat re-melts the last run just enough to fuse the line of plastic being applied to the structure enabling adhesion of the two runs.
FDM printers are widely used for general-purpose 3D printing as they are cost-effective, but there are limits to their application.
The quality of the final product rates poorly against other 3D printing technologies due to low dimensional accuracy, overall resolution and builds being anisotropic.
Because the structure is fabricated layer by layer, the end product will show visible signs of the fusing process. To rectify this, post-production is necessary to attain a smooth finish.
For prototype and custom builds that require a quick turnaround time, FDM printers are the popular choice due to the available technology and the wide range of thermoplastic materials available on the market.
However, where intricate parts are required, FDM printers fall short of the benchmark.
How much does the average FDM printer cost?
The advancement of FDM 3D printing technology has made 3D printing quick, easy, and affordable for consumers. One would expect the technology and hardware to be pricey, but the average 2020 listing for 3D entry-level and hobbyist FDM printers is truly affordable.
Pricing for entry-level printers ranges from about $150 to $300, while prosumer printers are slightly pricier and range from about $300 up to $1500.
Most hobbyist printers are not suitable to print large volumes and may require time to set up and run tests before printing can begin. Variables like size, quality, features, durability, performance, and manufacture origin will affect printers' market price.
One must also consider shipping and import costs if the printer cannot be purchased locally. On average the cost for a general-purpose hobbyist printer will be in the ballpark of $200 to $500, excluding shipping and import costs.
The Ender 3 printer from Creality is an excellent example of a hobbyist printer that is usually being sold for around $250. It is partially assembled with the lower base and wiring completed in the factory and the printer comes with the necessary tools to complete construction.
Price of Filament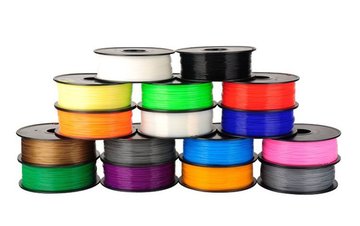 PLA filament (polylactic acid): Considered the entry-level filament for hobbyists, PLA is a low heat resistant filament, easy to use, and has a multitude of applications. Manufactured from plant-based thermoplastic, the source is recyclable, which adds to the affordability.
The main downside to printing with PLA filament, however, is that it is susceptible to direct sunlight and high heat.
1Kg Spool of 1.75mm PLA filament with a dimensional accuracy of +/- 0.02mm sells for about $20.
ABS filament (Acrylonitrile Butadiene): ABS filament is heat resistant up to 250 degrees Celsius and is used to make Lego blocks because of its durability and high impact resistance.
A heated print platform is required to avoid curling on the edges of a project being printed. Although the final product is durable and flexible, the material used makes it unsafe for food.
It should be used in a well-ventilated room as the odor it gives off during printing resembles acid burning plastic and can become unbearable.
1Kg spool of 1.75mm ABS filament with a dimensional accuracy of +/- 0.02mm Sells for roughly $20, and a 2Kg spool of the same exact filament will cost about 60% more.
PETG filament (Polyethylene Terephthalate Glycol): PETG is a durable and easy to use high-temperature resistant filament (up to 250 degrees Celsius).
PETG can be transparent or translucent depending on the color of the material, and this is due to the glycol added to PEG that is used to manufacture plastic bottles and containers.
The end product is a lot smoother, but the filament does tend to have stringing problems that may reduce the fished product's quality. There is a low risk of warping, and the adhesion quality is exceptional.
1Kg spool of 1.75mm PETG filament with a dimensional accuracy of +/- 0.02mm tends to sell for about $20.
The three filament types' price is similar, and although prices vary slightly among different manufacturers, the overall pricing is relatively uniform.
There are no additional or hidden costs when using a FDM printer unless you want to use acetone to finish off an ABS printed project to get that glossy look that resembles a finished PETG project.
So, the average cost for PLA, ABS and PETG is about $20 for a 1Kg spool of the filament.
What are Resin Printers?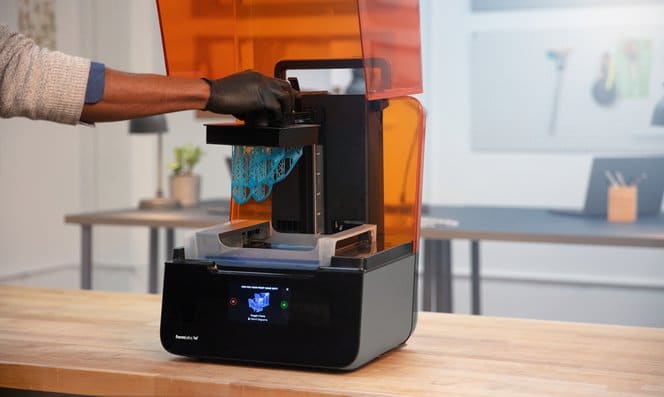 Resin 3D printing incorporates photopolymerization, which means curing layer by layer of liquid photopolymers (light active resin) into a solid structure.
The resin reacts to specific wavelengths of light, usually UV light which hardens or cures it. Light sources vary depending on the technology. Current technologies make use of laser, projections and LCD panels.
Most hobbyist resin printers operate on the same principle where a bath of resin with a transparent bottom is secured over the light source that cures the resin from below.
Simultaneously, the build platform moves vertically upward with the structure or object being built upside down. Resin bonds very well in the build process and fine detail can be achieved. The end product has a seamless finish with no visible bonding lines that are common with filament printing.
The post-printing process required to fully cure the printed structure is essential as it poses a health risk due to most resins being toxic. When working with resin, safety measures must include wearing protective gloves and a face mask, preferably one with an organic filter to prevent respiratory irritation from resin fumes.
Resin has a strong odor, and adequate ventilation should be a priority.
When the build structure is removed from the printer, it will be dripping with liquid resin and the 3D model itself will also be covered in liquid resin. You will need an alcohol-based product to wash uncured resin off the structure; however, with some resin types, soapy water or plain water will suffice.
An extra curing bay with light source may be necessary to harden structures fully. The cost of post-printing materials can add up and should be considered when investing in a resin printer.
How much does the average Resin printer cost?
The cost of 3D hobbyist printers varies, depending on the technology, place of origin, and so on, but they are considered affordable and compare well to FDM filament printers.
For example, the Elegoo Mars 2 LCD printer currently sells for $250, while other hobbyist resin printers range from $180 to $900. The Mars 2 printer has a 2 second exposure time to cure each resin layer which significantly reduces build time.
The 6.08-inch 2K mono LCD printing deck is said to have a longer lifespan and offers stable performance over long term printing projects. The amount of detail that can be achieved as well as the consistency in printing quality is outstanding.
On the high end of the scale is the Anycubic Photon Mono X 3D printer selling for roughly $750,and it has a 4K screen and capable of 192mm-120mm-250mm print size.
The print speed takes 1-2 seconds per layer or 60mm/h and is three times faster than other printers. With a screen service life of 2000h and the new Matrix UV light source which is more uniformed, fine detail and printing volume can be achieved.
Resin Printers are much more capable of printing detailed 3D models than FDM printers, but the downside is that the printing process itself is much more complicated because of the liquid resin and because the liquid resin needs to be cured, etc.
Price of Resin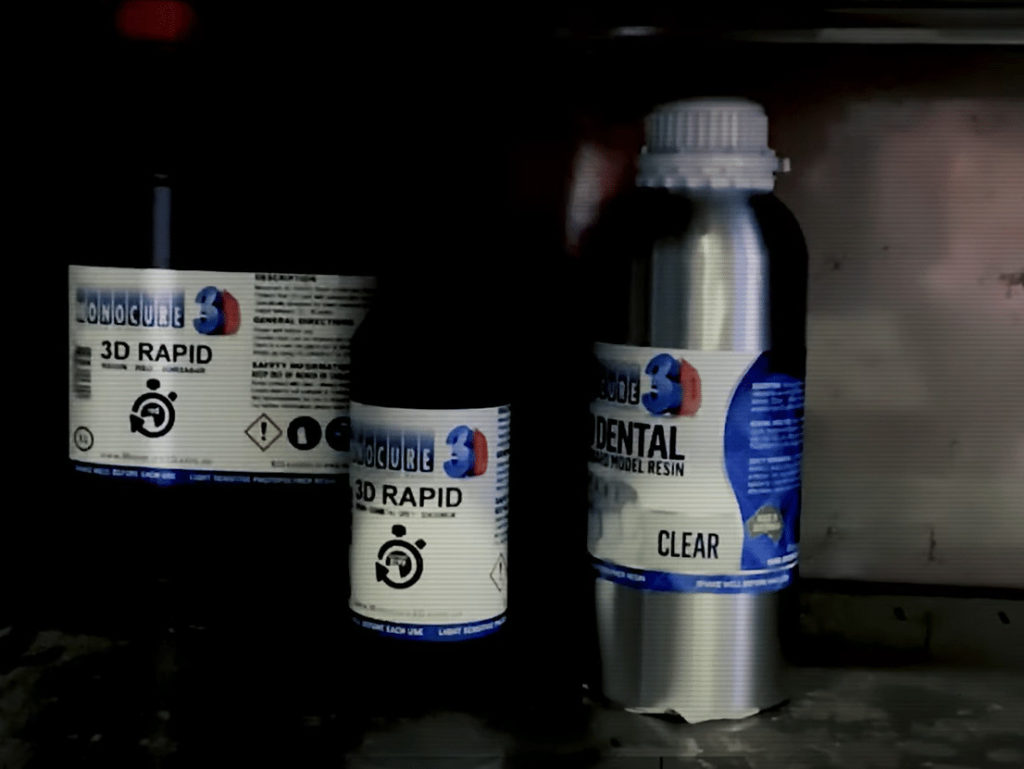 Different types of resins require different curing processes. There are also different brands of resins where some are specific to certain printers, and these variables ultimately affect the price point.
Here's a list of the prices of 3D printing Resin:
Anycubic SLA UV-curing resin is roughly $20 and it has excellent fluidity and cures quickly.
Washable water resin for LCD printers cost is about $40 per 1000ml.
NOVA3D also has a washable water resin which has a lower odor for LCD printers. A 500g bottle of grey resin costs about $25.
Rich-Opto LCD UV-curing resin is quick curing and has a low odor. A 1000ml bottle of white resin sells for $29 and includes a grind rod.
ApplyLabWork DLP385 resins are compatible with Asiga printers. A 1-liter bottle costs about $75.
FUN 3D clear resin for laser SLA printers, specifically for Formlabs, Peopoly, Moai, DWS costs about $30 for a 500ml bottle
You can expect to pay anywhere from $15 to $45 for 500ml of resin, and for 1000ml the price range is between $28 and $80. For higher quality resins, the price could be higher.
It is best to scrutinize the advantages and limitations of a resin printer before purchase and you should always include resins in your research and match what fits your needs.
As you can see, the resin is more expensive than filament, but the benefit of owning a resin printer is clear; higher detail prints.
With resin printing, it is not just the printer and resin cost that need to be considered since there are a lot of additional costs you have to consider.
Additional Costs associated with Resin Printers
Resin printing can become messy after the initial printing process is complete, and because of the health risks associated with resin, protective gear must be worn at all times.
As far as the protective gear goes, you will need; A Face mask with an organic filter, or at least protective glasses, and Nitrile Gloves.
Isopropyl alcohol in large quantities and a curing lamp may also be needed.
Here are the costs for each:
Total Cost Comparison
Printer Type
Printer Price
Filament/Resin Price
Other Expenses
Recommended for
FDM Printer
$200-$500
$20 per 1Kg Spool
Some Repairs
Beginners and people who don't need a high level of detail.
Resin Printer
$180-$900
$15-$45 for 500ml

$28-$85 for 1 Liter
-Changing the Resin Tank ($40)
-Protective Gear: $45-$65
-Isopropyl Alcohol: $30
-UV Lamp: $30
-Some Repairs
Users who need high-quality prints with great detail.
Conclusion
As you can see, Filament is much cheaper than Resin, but that's not even the whole story, since Resin Printers have a lot more additional costs that you will need to consider, like Gloves, Isopropyl alcohol, and more.
Plus, Resin smells extremely bad once the printing process starts, which is not something you should ignore.
If you're a beginner or someone who is thinking about getting their first ever 3D printer, then choosing a resin printer might not be the smartest choice because of all the added costs, how messy they are to run, etc.
FDM printers are much more beginner friendly and are also more affordable.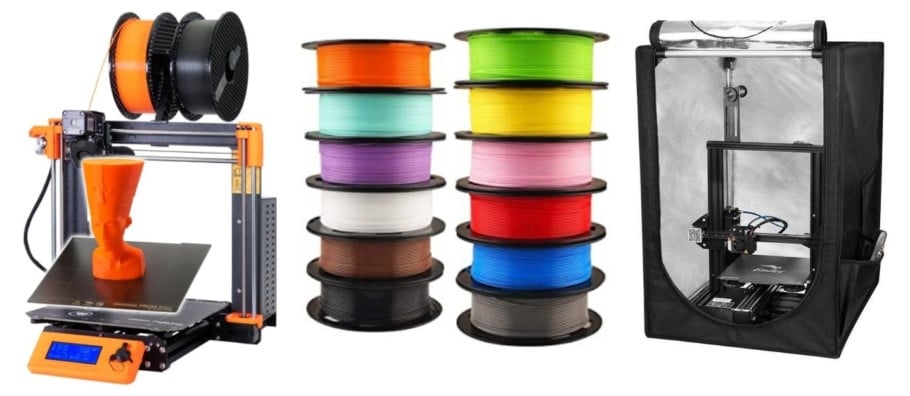 We created a recommended products section that will allow you to remove the guesswork and reduce the time spent researching what printer, filament, or upgrades to get, since we know that this can be a very daunting task and which generally leads to a lot of confusion.
We have selected just a handful of 3D printers that we consider to be good for beginners as well as intermediates, and even experts, making the decision easier, and the filaments, as well as the upgrades listed, were all tested by us and carefully selected, so you know that whichever one you choose will work as intended.